Kakaopage
Brand Website
Renewal

The representative of the Republic of Korea, which has a variety of content pages of cacao content platform.
Kakaopage changed the company name and renewed the brand and needed a new brand website to match.

We needed a new brand website that fitted the renewed brand identity, and we needed a website that allowed us to introduce the company's vision and various contents to foreign investors and talents, considering the language environment of each country in the global market.

The core of this project was to propose the best way to present the company's vision and various contents through the website more attractively and effectively. We also considered making the PR and PT possible for the website alone.

카카오페이지는 다양한 콘텐츠를 가지고 있는 한국의 대표 콘텐츠 플랫폼입니다. '주식회사 카카오페이지'로 회사명 및 브랜드 리뉴얼을 하였고, 그에 따른 새로운 브랜드 사이트가 필요 했습니다.
이 프로젝트의 핵심은 브랜드 사이트를 통해 회사의 비전과 다양한 컨텐츠를보다 매력적이고 효과적으로 제시하는 가장 좋은 방법을 제안하는 것이 었습니다. 또한 웹 사이트만으로 PR과 PT를 가능하게하고 글로벌 진출에 따른 다국어 웹사이트를 고려하는 것이였습니다.
Promotion Movie, Interaction Design을 맡아 단독 진행했으며, Junior UI Designer로 제안 및 구축에 참여하였습니다. 아래 포트폴리오 디자인 또한 진행했습니다.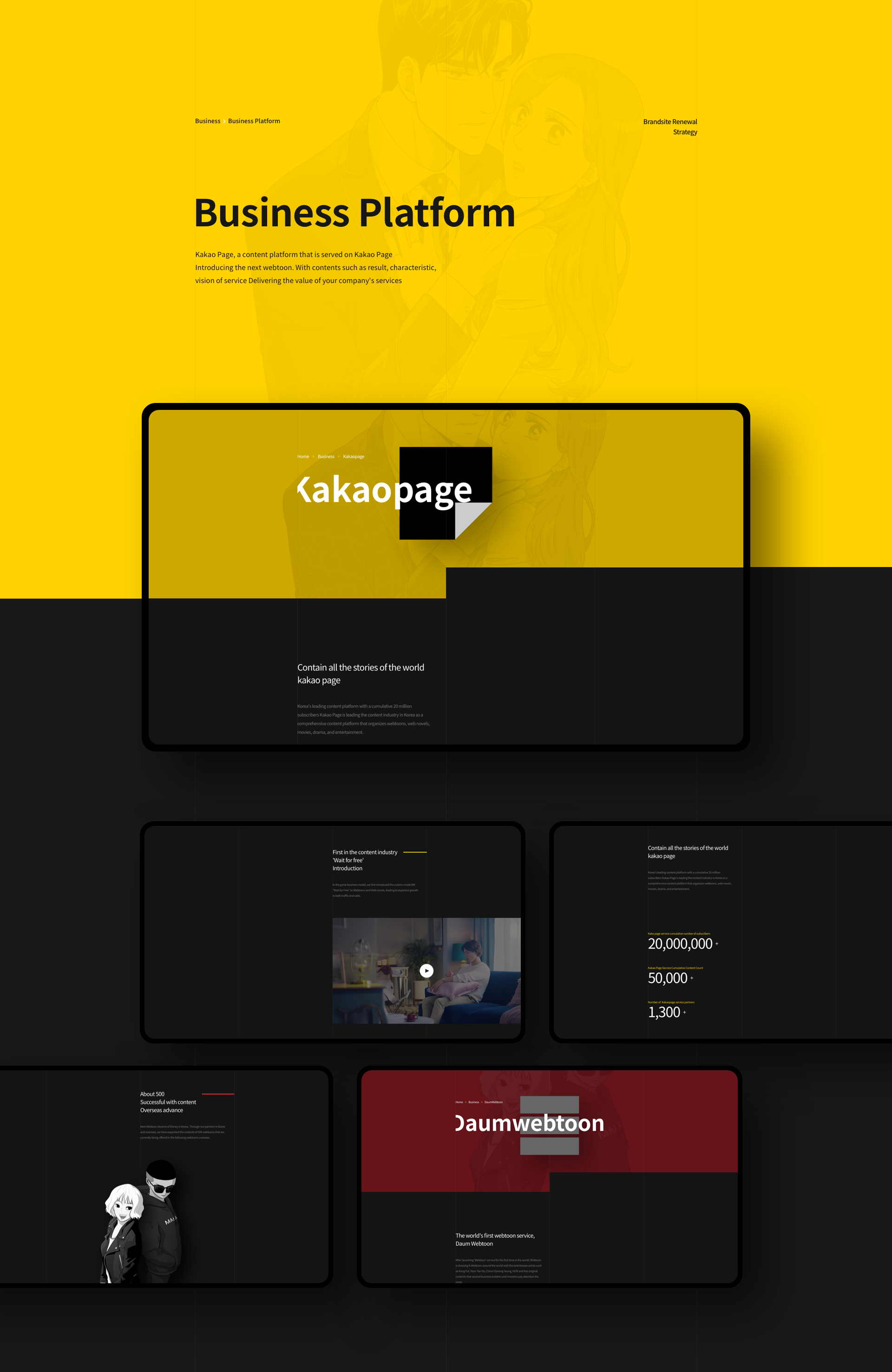 We look forward to playing a role in attracting a lot of people
by conveying more implicitly through brand story videos
and using the website for corporate presentation purposes.
Client
Kakaopage corp in south Korea
With
PlusX Designer
Creative Director : Sabum Byun
UX Planner : Youjin Jeon, Doyeon Cho
UI Designer : Jaehoon Lee, Kiwon Jang, Chulhee Kim
Interaction Designer : Chulhee Kim
Motion Designer : Chulhee Kim
My part
Junior UI Design
Interaction, Movie Design

Portfolio Design
With
Development
DK Tech In
Period
2018.8 - 2018.12
Website Link
http://www.kakaopagecorp.com/