L.Point
UX.UI experience
Design Renewal
L.point is an integrated membership service of Lotte Group which is a large distributor. After you make a payment at the store, you can use your barcode scan to earn points or use your saved points.
We thought that key point for this project is to think about how customers could remember L.point as a good impression and how to visit the L.point app consistently. In February 2017, we launched mobile app, mobile web, and PC web services after repeating proposals and wireframe/design revisions.
엘포인트는 대형유통사 롯데그룹의 통합 멤버십 서비스입니다. 매장에서 결제 후, 바코드 스캔을 통해 포인트를 적립하거나 결제 시 모은 포인트를 사용할 수 있습니다.

리서치한 결과, 고객들은 멤버십 앱 대신 통합멤버십 서비스 이용하고 있었습니다. 그리고, 엘포인트에서 제공하는 유용한 혜택을 알지 못했습니다.

우리는 고객이 엘포인트를 좋은 인상으로 기억할 순 없을지, 지속적으로 엘포인트에 방문하게 할 방법은 무엇일지에 대해 고민하는 것이 이번 프로젝트의 핵심 과제라고 생각했습니다.

Junior UI Designer의 역할로 현 웹사이트에는 담당 했던 페이지 디자인만 업로드했습니다. 인터랙션은 단독으로 진행했으며, 영상은 콘티, 2D, 3D 모션을 진행했습니다.
Interaction
Good Impression
when using the service
Applied the interaction effect to every part of the service with the wit elements which gives a good impression to the customer.

To maximize the experience of receiving the points, when a customer earn the points after completing the mission, we created popping coin interaction with counting of the saved points.
고객에게 좋은 인상을 주는 위트요소로 서비스 곳곳에 인터랙션 효과를 적용했습니다.

고객이 미션을 달성한 후 포인트를 받을때에는 적립된 포인트 숫자가 카운트되고 동전이 터지는 인터랙션을 연출하여, 포인트를 받는 그 순간의 경험을 극대화 하고자 했습니다. 출석체크 미션 수행 시 달력이 넘어가거나, 물마시기 미션 수행 시 물병의 물이 줄어드는 애니메이션 효과는 재미를 더합니다.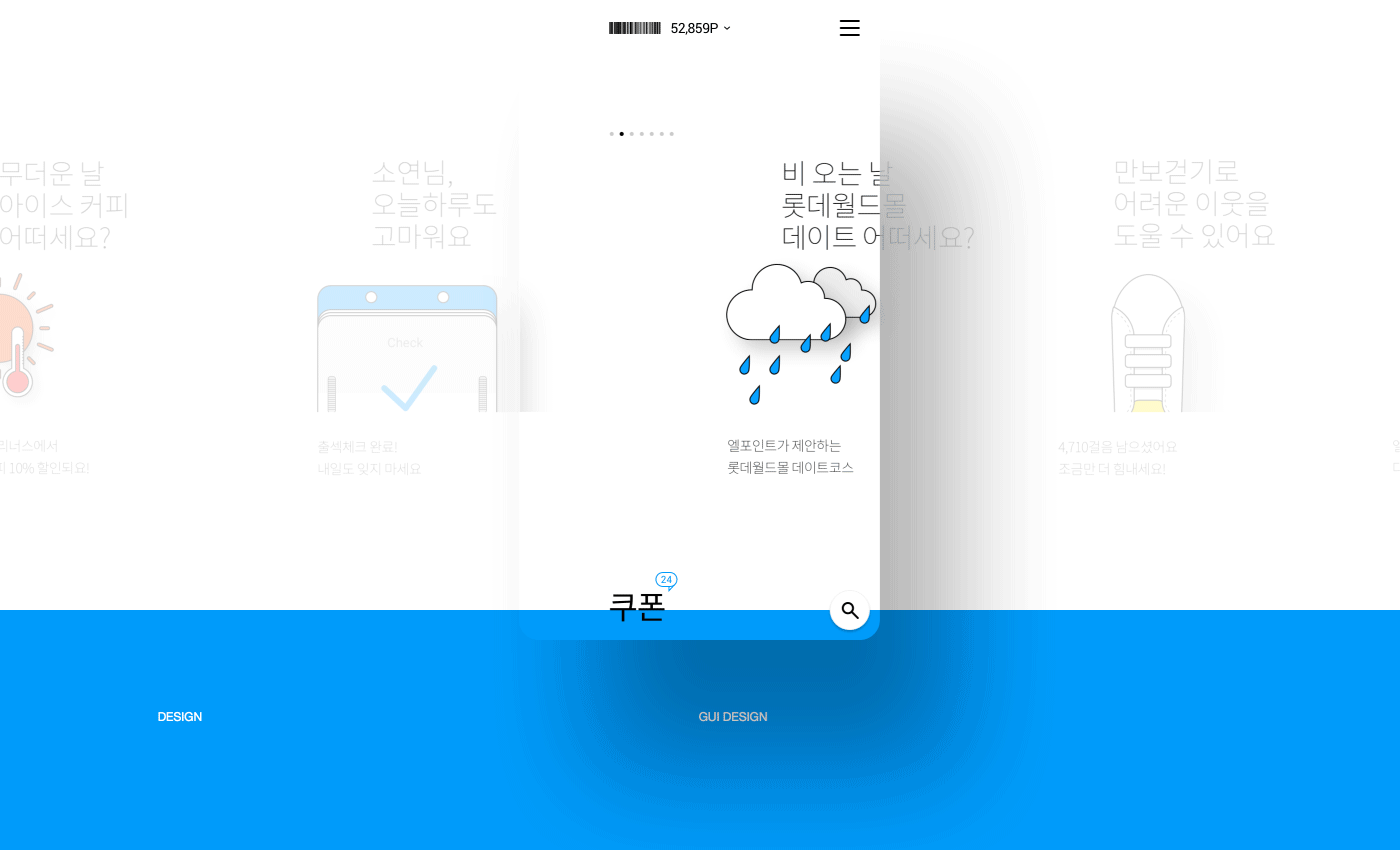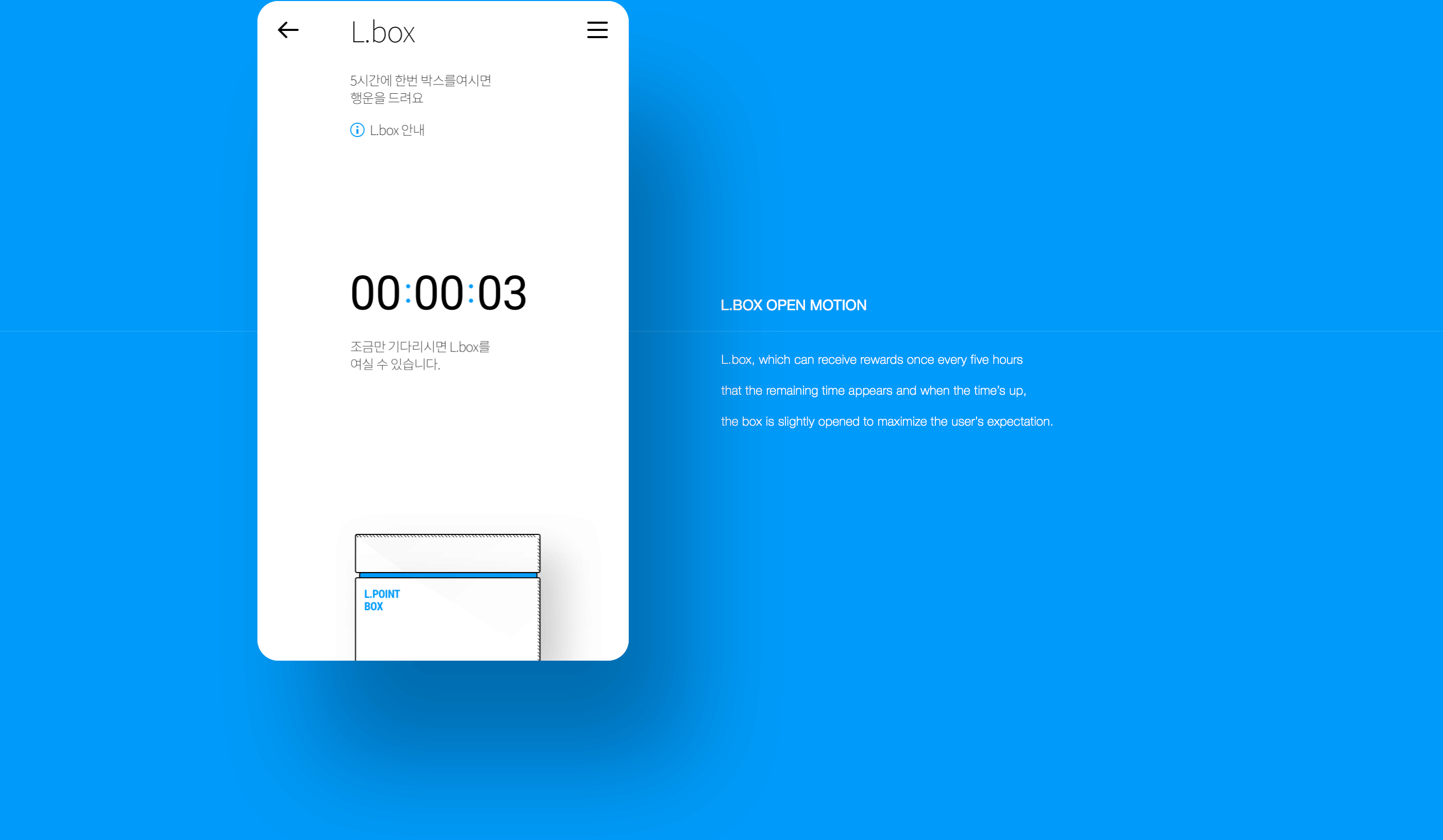 Give points to loved ones
The user can present L.Point with a message. Send invitations to people who aren't signed up to drive app use.
Each designer was assigned a separate division of work.
The Section Designer in charge of UX flows with UX Designer.
엘포인트 유저는 엘포인트를 메세지와 함께 선물 할 수 있습니다. 가입되지 않은 사람들에게 초대장을 보내 앱 사용을 유도하기도 합니다. UI 디자이너는 담당한 섹션을 담당 UX 디자이너와 UX 구조, 플로우 등을 의논하며 UI, GUI 디자인을 진행합니다.

We will diversify the page around the key visual created by the lead designer.
The following pages are the design pages I have been in charge of.
각각의 섹션은 담당 디자이너가 맡아 진행하며 리드 디자이너 혹은 PM과 최종 의논하여 완성합니다. 아래 이미지는 담당한 페이지 디자인만 업로드 하였습니다.
With

PlusX Designer
Creative Director : Saum Byun
UX Planner : Youjin Jeon, Jeongho Kim, Wonjihye, Han Soyeon
GUI Designer : Bongho Choi, Jaehoon Lee, Hee Jung, Kiwon Jang, Hyeyoung Jung, Jihye Lee, Chulhee Kim
Interaction Designer : Chulhee Kim
Motion Designer : Jihye Lee, Cheulhee Kim
My part
Junior UI Design
Interaction Design

Movie Design
Period
2016.7 - 2017.2
Project Detail Link
https://www.behance.net/gallery/61855391/LPOINT-UXUI-eXperience-Design-Renewal